Southern Africa's Specialist Display and Touch Technology Provider, Service Part and Component Distributor.
Distributors for KME's range of special purpose LCD monitors >
MULTISYNC MONITORS FOR LEGACY SIGNAL SOLUTIONS.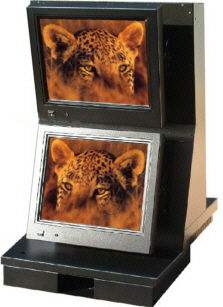 Sync on green, RGB+C/sep, MDA,CGA,EGA are all monitor display formats that were widely used before the advent
of high frequency scanning monitors for desktop PC use (VGA standard - 31.5Khz horizontal scan rate).
Before this there was no attempt to standardize operating frequencies, any monitor operating below this standard VGA
scan, can be considered as slow scan with no compliance in terms of sync, pulse width, shape, polarity or video timing.
Many machine and control systems in South Africa still use these legacy signal formats, presenting problems when an
unserviceable monitor halts the man machine interface, rendering high capital cost machine tools unserviceable.
Screenvision offers solutions to these problems, if our service department cannot repair your original monitor, we offer
a range of truly multisync, intelligent CRT and LCD monitors from KME.
We also offer pixel transformers (electronics used in above monitors, but no display), with DVI output, enabling the use
of plastic off the shelf LCD monitors.
Control room CRT to LCD display upgrades are undertaken for systems such as Honeywell, ABB,
Yokogawa, Siemens etc, we undertake steelwork design & manufacture and can offer touch protocol translators where
legacy touch systems are utilised.


Home.

Contact.